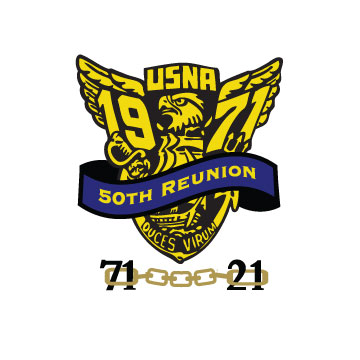 Class of 1971 – USNA
Class of 1971 50th Year Reunion in Annapolis     /     September 30 to October 4, 2021
Note: We are working on this website and expect to upload relevant information on Event Registration and other information during the Spring of 2021.
Hello USNA 1971 Classmates, Spouses, Widows, Families, and Friends!
Welcome to your reunion website. We truly hope you can make it to Annapolis to celebrate our 50th during early Fall 2021. Events are planned from Thursday, September 30th through Monday, October 4th, 2021. Come early and stay late . . . well . . . as late as you can expect to stay at our age. Speaking of age, all of us will be 71+ years old by the time our 50th celebration gets underway. Let the party begin!
Thanks to our Company Reps for spreading the gouge and encouraging their company-mates to make plans to renew friendships and share old and new sea stories in Annapolis. All Company Reps worked hard to ensure Classmates responded to the 50th survey. Please take time to individually thank them for their continuing efforts.
Thanks to our Class Officers for their continuous support throughout the planning process. Their vigorous email and voice communications helped spread the word quickly. The Class-wide survey distributed during September 2020 will help us forecast Classmate and Guest participation. This will be vital toward
establishing pricing and preparing for the expected high attendance. The survey results are very encouraging: 71% of us said we intended to attend the 50th. You read that right – 71%.
Please be advised the Reunion Committee and Class Board have determined it will be in the best interest of 1971 Classmates, Families, and Friends to delay the start of registration until approximately four months
prior to our 50th.
The target registration start date is June 9, 2021, which will be 50 years to the day since our graduation and commissioning. We trust this will provide needed time for the uncertainties of COVID to subside after highly anticipated vaccinations begin.
We want you to feel great about traveling to Annapolis to celebrate our 50th! Rest assured that we are working hard to plan and execute a 50th worth remembering!
The Reunion Schedule of Events and a list of area hotels are now displayed on this website. During early 2021 we intend to start uploading more detailed information of scheduled reunion events, bus transportation, USNA security and access, area information, plus how-to-order instructions for our '71 Ship's Store and Navy Football tickets (UCF). We recommend you take time to review the entire site, then go to the registration link when we go live on June 9, 2021 to make your selections . . .
We'll see you in Annapolis on September 30, 2021!
Your 50th Reunion Committee,
Bob & Jona Capra: Saturday Tailgate & Football Tickets, Photography, Website Information,
Committee Minutes & Records
Walt & Judy Havenstein: Sunday Class Dinner, Selection & Vendor coordination of memorabilia gifts for individual Classmate purchase
Jim & Kathi Hergenroeder: Chairman, Schedule, Communications, Budgeting, Pricing, Registration
Dave & Patty Miller: Friday Golf Match, Sunday Memorial Services, Check-in, Menus
Bob & Meg Wagoner: Transportation, Apparel selection, Sunday Class Dinner, Photography
Phil & Ann Williams: Class & 50th Website
Jane Wilhelm (Skip): Thursday Welcome Aboard Party, Monday Brunch
Cass & Karen Young: Hotels, Check-in, Thursday Welcome Aboard Party, Monday Brunch,
Apparel selection & Vendor coordination
Questions: Email Jim Hergenroeder at jimhergen1@gmail.com